Sun, 2009-01-11 17:25 — Portia Tung, Pascal Van Cauwenberghe
We want to deliver maximum business value. Prioritising is easy if someone assigns business value to each story. How do you estimate business value? How should you prioritise between stories, projects or clients?
The aim of the game is to deliver maximum value. Your development team only has a finite capacity, so you're going to have to make some tough choices. We provide the clients and their requests. We suggest techniques for estimating business value. The rest is up to you.
The game teaches you how to build and use a Business Value Model to deliver maximum value.
Max. 50 players
Process/Mechanics
The session is run as a simulation with teams of 5-7 players. Teams compete to earn as much money as possible by selecting and prioritising work for their development tream. The session organisers provide the teams with pre-written projects and stories.
In the game, there are more customers and work than the development team can handle; the developers are the bottleneck. The players have to prioritise well and make some tough decisision (like postponing or dropping projects and customers) to get the most value out of their development team.
The first round is pretty easy. Each iteration becomes more difficult as we introduce new variables and twists.
Every two iterations in the game, the players hold a "standup retrospective" to discuss lessons learned to to share strategies. The teams have to continuously adapt and improve their business value strategy.
| Length | Total | Contents |
| --- | --- | --- |
| 5' | 5' | Create teams and hand out materials |
| 10' | 15' | Play iteration 1 and explain the rules |
| 10' | 25' | Play iteration 2 |
| 10' | 35' | Standup retrospective - debrief first two iterations |
| 15' | 50' | Play iterations 3-4 |
| 10' | 60' | Standup retrospective - debrief iterations 3-4 |
| 15' | 75' | Play iterations 5-6 |
| 15' | 90' | Standup retrospective - final debrief and conclusions |
The game is open source and can be downloaded from http://www.xp.be/businessvaluegame.html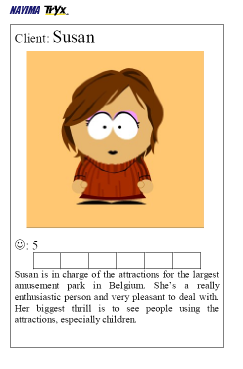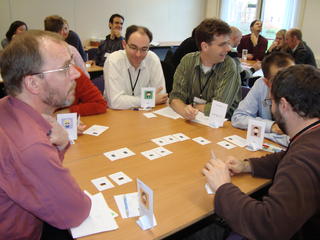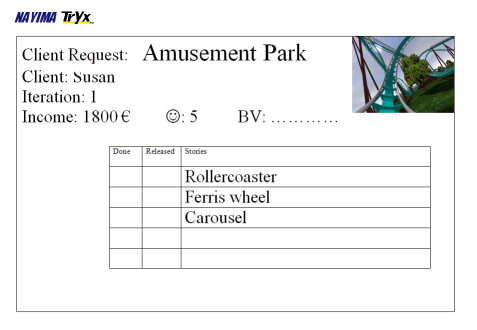 Learning outcomes
Experience the issues facing the Product Owner
Experience the link between program, project and story prioritisation
Discover the right level at which to estimate Business Value
Learn "good enough" business value estimation techniques