Add to calendar
Fri, 2009-02-06 15:36 — Patrick Debois
Ok, maybe we exaggerated a bit. CI deployments focus on the testing and deployment of the application. The 'world' (OS, Application & DB server) within a CI doesn't change that much. But what if you could define your applications environment from a kind of 'source' and build and unit test it? f.i. Test security patches by using unit tests of your application?
Using the concept of a pipeline we will show how to use existing tools/concepts for a Continuous Build for your Infrastructure allowing you to better integrate your production environment. Your sysadmin might even get interested?
Process/Mechanics
This will be a mixture of demo and slides. We will work with the metaphor of cooking. It requires all the ingredients to cook a good meal. Virtualization is like putting fire into lighter.
For the longer parts we will speed up the screencasts like the old charly chaplin movies. There will be lots of tools to show.
The following image gives an overview on the similarities we would like to address. The session will focus on the Application Environment (the world).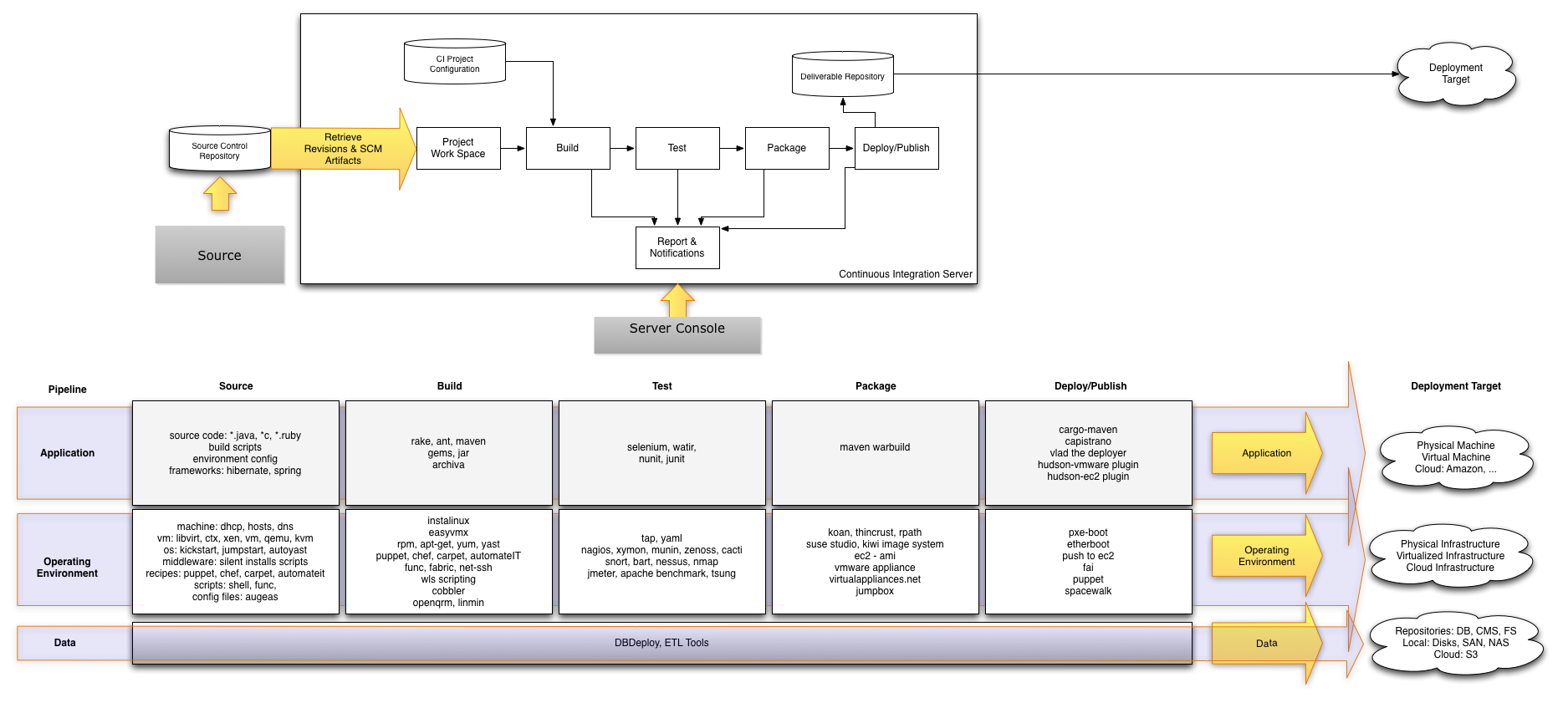 Source
What does it take to define the application world
Different levels of source : Network Config, Virtual machine, OS, standards recipes
Functional Operating systems: NixoS, Nix package manager
Build
Explain the existing tools to build the environment and how to automate this
Instalinux, EasyVMX, Puppet, Carpet, AutomateIT,
OpenQRM, Linmin
Test
How monitoring tools can apply to testing
Unit tests for infrastructure: OS, Memory, Disk
Regression tests for infrastructure
SNMP, nagios,
Validation, security checks
Package
Building appliances: rpath, ec2, thincrust
Building virtual machines: koan
Deploy/Publish
Publish to a physical machine (PXE)
Publish to a virtual machine (PXE, vm preparation)
Publish to a cloud
Integrating both pipelines
Rebuild it all and integrate in one pipeline
Introducing a security fix and see that happens in the pipeline
Other subjects might be related to this mindmap: http://www.mindmeister.com/15485305
Learning outcomes
Better understanding of how to integrate your production environment into your CI setup
Discover new ways to avoid problems when release into production.
How you can apply the concepts of CI to infrastructure management
Subscribe to an RSS feed of reviews of this proposal